Storage and GSP Certification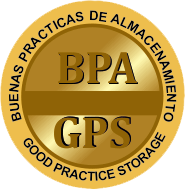 Controlled temperature Areas
Our Distribution Center has controlled temperature areas which ensure an adequate storage of products.
Inside storage conditions are:
Temperature below 30°C
Temperature below 25°C
Temperature from 2 to 8° C
Controlled products
We have special warehouses with restricted access to keep under control some special products with active principles regulated by DIGEMID. In addition, our monitoring system keeps traceability of products since they enter the distribution center until they are sent to customers.
Batch Control, FEFO and FIFO Management
The traceability and management of store products is guaranteed by the batch control, the FEFO (First Expires First Out) and FIFO (First In First Out) policy. In this way, we ensure that the products do not expire at the distribution center and the correct items are addressed.
Validated Cold Chain
We have a process for handling, shipping and delivery validated with respect to controlled temperature products in the ranges of 0° C for frozen and 2° C to 8° C for refrigerated, so that Cold Chain conservation is ensured throughout the transport route to the recipient.